AUGUST
3/Friday - 22:00 - NIKOLA VRANJKOVIĆ; Beergarden
4/Saturday - 21:00 - ROZE POZE, SAMOSTALNI REFERENTI...; Beergarden
5/Sunday - 21:00 - Abba Real Tribute Band; Beergarden
6/Monday - 21:00 - Berklee College of Music in Belgrade: Vasil Hadžimanov,
Marko Đorđević, Pera Krstajić, Branko Trijić, Rastko Obradović...;
BitefArtCafe Summer Stage
7/Tuesday - 21:00 - Berklee College of Music in Belgrade: Katarina Pejak,
Ana Krstajić, Tamara Jokić, Andrija Gavrilović...;
BitefArtCafe Summer Stage
10/Friday - 21:00 - REPETITOR; Beergarden
15/Wednesday - 24:00 - Róisín Murphy; Beerfest
16/Thursday - THE STRANGLERS; Beerfest
27/Monday - 20:00 - Jessie Ware; Belgrade Fortress

SEPTEMBER
7/Friday - 20:00 - Bryan Ferry; Štark arena
8/Saturday - 20:00 - 2CELOS; Belgrade Fortress
20/Thursday - 20:00 - EYOT; Dom omladine
29/Saturday - 20:30 - TEXAS; New Belgrade Sports Hall

OCTOBER
2/Tuesday - 22:00 - MARIO BIONDI; New BitefArtCafe
3/Wednesday - 22:00 - MARIO BIONDI; New BitefArtCafe
14/Sunday - 20:00 - JETHRO TULL; Sava centre
30/Tuesday - 20:00 - PETER BENCE; Kombank dvorana

NOVEMBER
4/Sunday - 22:00 - KNOWER; New BitefArtCafe
7/Wednesday - 20:00 - IVO POGORELIĆ; Kolarac
Programme: Rachmaninoff, Rimsky-Korsakov
9/Friday - 21:00 - Peter Murphy; Dom omladine
13/Tuesday - 20:00 - BRIT FLOYD; New Belgrade Sports Hall
28/Wednesday - 22:00 - KEZIAH JONES; New BitefArtCafe

DECEMBER
2/Sunday - 20:00 - BETH HART; New Belgrade Sports Hall
12/Wednesday - 20:00 - Postmodern Jukebox; Štark arena
15/Saturday - 20:00 - BOŽO VREĆO; Sava centre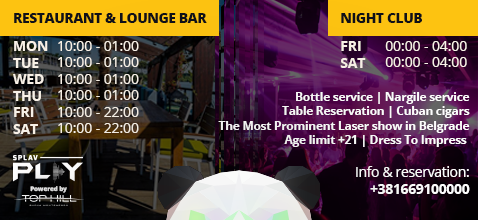 1 January: The Street of the Open Heart. New Year's Carnival in Svetogorska Street. The programme for children (actors, musicians, Santa Clause) and adults (cooked brandy and wine for a good morning) starts at noon.
13 January: Celebration of (Serbian) New Year by the Julian calendar. Special programme in the Clubs and Restaurants.
19 January: Twelfth-day. Traditional diving for the "Epiphany Cross" on Ada Ciganlija (in the lake) and on the Danube (Zemun quay). The bravest of young men test their stamina and speed in icy waters.
February: Magnificent Seven - European feature documentary film festival.
23 February - 4 March: FEST. International film festival. It takes place in Sava Centre, with additional programs in Belgrade Cultural Centre and the Museum of Yugoslav Film Archives. www.fest.rs
17 March: St. Patric's Day - traditional concert of Ortodox Celts.
16-21 March: Guitar Art Festival. www.gaf.rs
March: Belgrade Documentary and Short Film Festival. www.martovski.rs
15 March - 4 April: Belgrade Dance Festival. belgradedancefestival.com
21 April: Belgrade Marathon. Apart from the international marathon there is a half-marathon and a joy-race for amateurs. People run through the streets of Belgrade, on a Saturday morning. www.bgdmarathon.org
April: Belgrade Fashion Week. www.belgradefashionweek.com
May: Group Wedding Ceremony. City Hall, 10:30.
May: BELDOCS - International Documentary Film Festival. beldocs.rs
May: Night of Museums, 18-02; www.nocmuzeja.rs
17 May: (40 days after Easter) Ascension Day. The religious procession starts from Vaznesenjska crkva (Church of the Ascension). A great number of Belgrade citizens participate in this religious procession.
May: Mixer. The biggest regional festival of creative arts. www.mikser.rs
August: Beerfest. Festival of beer and music at the Friendship Park (New Belgrade). About 20 varieties of beer on the stalls of the manufacturers. Rock concerts start at 18:00 and last far into the night.
belgradebeerfest.com
September: BITEF. International festival of the new theatrical tendencies. Competitive. It takes place in theatres with several additional programs.bitef.rs
October: October Salon. Presents authors in the areas of visual and applied arts and design, together with the guests from abroad. It takes place in a couple of city museums and galleries. It lasts the whole month. oktobarskisalon.org
October: The Joy of Europe. International meeting of children where they show song and dances from their countries. It takes place in Children's Cultural Centre, Sava Centre and other outdoor places in the city.
October: Rollerblade Festival, Republic Square.
October: Belgrade Fashion Week. www.belgradefashionweek.com
October: Jazz Festival. Famous world and native jazz players in close contact with the audience in "Dom omladine". www.bjf.rs
October: Belgrade Book Fair. International fair of publishers where you can buy books. www.beogradskisajamknjiga.com
December: Auteur Film Festival. The Festival will feature many auteur films from all over the world. Belgrade film buffs love auteur films and theatres are always packed, so get your tickets on time.
31 December: New Year's Celebration. Organised celebration on the main city squares and streets, with live music and fireworks. All restaurants and discos prepare special programmes. Due to a great number of foreign visitors, it is best to book a hotel room at least one month before the holidays.




Akademija 28, Nemanjina 28, Tel: 3619-342, Music: Fri-Sat. 22:00 (Jazz, Rock). www.akademija28.com
Azbuka, Kralja Milana 2, Tel: 4077-364; Music: Wed-Thu 21-24, Fri-Sat. 22-02 (Pop, Rock, Latino).
New Bitef Art Cafe, Mitropolita Petra 8 (Palilula Cultural Centre), Tel: 063/594-294; Music: Thu-Sat. 21:30 (Rock, Pop, Latino). Summer stage at Belgrade Fortress. www.bitefartcafe.rs
Black Panthers, Ada Ciganlija bb, Tel: 063/369-655; Music: Mon-Sun. 23-04 (Gypsy music).
Caruso, Terazije 23 (8 floor), Tel: 3248-037, Music: Thu. 20-01, (Evergreen). www.restorancaruso.com
Dva jelena, Skadarska 32, Tel: 3234-885, Music: Mon-Sun. 20-01 (Traditional urban music). www.dvajelena.rs
Jazz Garden, Male stepenice 1a, Tel: 062/8711-475, Music: Mont-Sun. 20-01 (Jazz). www.jazzbasta.com
Frida, Karađorđeva 2-4 (Beton hall), Tel: 2181-107; Music: Mon-Sat. 21:00 (Pop, Latino). www.cantinadefrida.com
Iguana, Karađorđeva 2-4 (Beton hall), Tel: 3283-749; Music: Mon-Sun. 19-01, (Jazz). www.iguana.rs
Kasina, Terazije 25, Tel: 066/222-152, Music: Mon-Sun. 22-02 (Pop, Rock)
Little Bay, Dositejeva 9a, Tel: 3284-163; Music: Mon. 20:30-23 (Jazz), Tue. 20:30-23 (Serbian), Wed-Sun. 20:30-23 (Opera arias, Classical). www.littlebay.co.uk
Ulica, Balkanska 13, Tel: 064/6109-984; Music: Fri-Sat. 21:30-01 (Jazz).
Reka, Kej oslobodenja 73b (Zemun), Tel: 2611-625; Music: Sunday-Thursday 21-01, Fri-Sat. 22-02 (Pop, Evergreen). www.reka.co.rs
SubBeerni centar, Cetinjska 15, Tel: 061-1420-299. Music: Rock, Pop.
Sunset, Ada Ciganlija (Makiš side of Lake), 063/8073-210, Music: Mon-Sun. 21:00 (Pop, Rock, Latino).
Šešir moj, Skadarska 21, Tel: 3228-750, Music: Mon-Sun. 18-01 (Traditional urban music).
Toulouse Lautrec, Resavska 24, 062/1560-895; Music: Wed. 21-01 (Tango Milonga), Fri-Sat. 22-02 (Pop, Latino)
Tramvaj, Ruzveltova 2, Tel: 065/8726-825, Muzika: Mon-Sun. (Rock, Blues, Latino, Quiz, Karaoke).
Tabor, Bulevar Kralja Aleksandra 348, Tel: 2412-464, Music: Mon-Sat. 21-02 (Traditional urban music). www.restorantabor.com
Tri šešira, Skadarska 29, Tel: 3247-501, Music: Mon-Sun. 14-18, 20-01 (Traditional urban music).
Velike stepenice, Stairway to the Port, near Austrian Embassy; Tel: 2634-124; Music: Fri-Sat. 22:00 (Pop, Latino). www.velikestepenice.com

CONCERT HALLS
Štark arena, Bulevar Arsenija Čarnojevića 58 (New Belgrade). Map D6
Tel: 0900

-

11

-

00

-

11; Box Office: Mon-Fri.

10-20, Sat. 10-15

. kombankarena.rs
Sava Centre, Milentija Popovića 9 (New Belgrade); Tel: 220

-

6060;


Box Office: working days 10-17

,

Sat. 10-15;

www.savacentar.

net

Map E7
Kolarac,Ilija M. Kolarac Foundation, Studentski trg 5; Tel:2630-550;


Box Office: working days 10-14, 14:30-19:30;

www.kolarac.rs Map H6
Kombank Hall, Trg Nikole Pašića 5; Tel:3234-

849; B

.

Office:13-22

Map I7
SKC - Student Cultural Centre, Kralja Milana 48; www.skc.org.rs Map I8
Dom omladine (Belgrade Youth Center), Makedonska 22; Tel: 3248-202;
B

ox Office:

Mon-Sat

10-

22

;

www.domomladine.org Map I6
BelExpo Centre, corner of Treći bulevar and Španskih boraca St. Map C7
Hala sportova (New Belgrade Sports Hall),

Pariske komune 20.

Map B4
Tašmajdan Stadium

,

Ilije Garašanina 24 Map J7
Božidarac, Radoslava Grujića 3, Tel: 3443-446. Mapa

K9


Soul Society, Mitropolita Petra 8. (stari BITEF). Mapa I6
SubBeerni centar, Cetinjska 15,

Tel:

061-1420-299. Mapa I6





RECOMMENDED THEATRE


National Theatre, Republic Square, Box Office: 2620-946. Open: Mon-Sat. 11-15 and 17-event start time (Sun. 17 - event start time). Repertoire: Opera, Drama, Ballet. narodnopozoriste.rs. Map H

6


Terazije Theatre, Terazije 29, Box Office: 3229-943. Open: Tue-Sat. 13-19:30, Sun. 17-19:30. Repertoire: Musicals. www.pozoristeterazije.com Map H7
Yugoslav Drama Theatre, Kralja Milana 50, Box Office: 3061-957, jdp.rs. Open: Mon-Sat. 10-15 and 17-event start time (Sun. 19-event start time). Repertoire: Drama. Map I8
Madlenianum, Glavna 32 (Zemun), Box Office: 3162-797. Open: Mon-Fri. 10-20, Sat. 10-14:30 (Sat-Sun. 17-event start time). Repertoire: Opera, Drama, Musicals. madlenianum.rs Map C1
Zvezdara Theatre, Milana Rakića 38, Box Office: 2419-664. Open: Mon-Fri. 9-15, Sat. 11-15, Sun. 11-13 and 2 hours before start time. Repertoire: Drama. www.zvezdarateatar.rs Off Map
Atelje 212, Svetogorska 21, Box Office: 3246146. Open: Mon-Tue. Thu-Sat. 10-14 and 18-event start time, Wed. 10-14, Sun. 18 - event start time. Repertoire: Drama. atelje212.rs Map I6
Bitef Theatre, Mira Trailović Square, Box Office: 069/8992-400. Open: Mon-Sun. 18 - event start time. Repertoire: Drama, Ballet. bitef.rs Map I6



TICKET VENDORS
Bilet centar, Trg Republike 5, Tel: 2628-342,

working days

9

-

20

,

Sat.10-20
Eventim, Dom omladine, Makedonska 22, M

on-S

at

. 10-22

,

www.eventim.rs


Ticketline,

Dom sindikata

,

Dečanska 14

,

working days

9

-

19

,

Sat.12-18