Weather
Belgrade enjoys a moderate continental climate and four seasons. Summers are surprisingly hot (temperature sometimes reaches 40°C) and winters are brisk and chilly (down to -10°C) with occasional snow. Springs are mild and pleasant and autumns are mellow with long sunny spells. Rainfall peaks in May and June and is least abundant in February. Stormy weather arrives from the West, while Košava (Koshava), a squally south-easterly wind, ushers in dry and sunny weather. Košava blows in autumn and winter, in spells of one to seven days, and there is no protection from the biting cold when it lashes. Belgraders usually seek shelter in kafanas.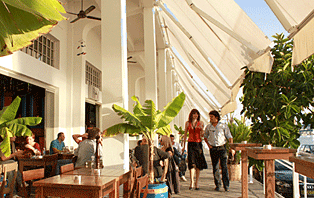 Time
Serbia is in the Central European Time Zone: GMT + 1 hours. Daylight Saving Time (Summer Time) is observed from the last Sunday in March to the last Sunday in October (GMT+2 hours). For example, when it is noon in summer in Belgrade, it is 10am in London, 2pm in Moscow and 6am in New York.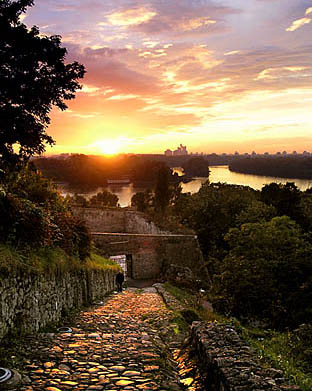 Opening times
Banks generally open from 9 to 17 Monday to Friday. The bank at the Mercator Shopping Mall (New Belgrade) opens 9-22 on all days. Post offices generally open 8-19, Monday to Friday, 8-15 on Saturdays, and Bureaux de Change open from 8 to 20 Monday to Friday, 8-15 on Saturdays. Most food shops open around 7 until 21 Monday to Saturday and 7-15 on Sundays. Large shopping malls open around 10 until 22 on all days. There are kiosks selling newspapers, cigarettes and juices throughout the city, open 24h. If you are seized by a sudden need for wine glasses, olives or a TV set at 3 o'clock in the morning, you can buy them at Tempo, a hypermarket at Obrenovački Put, right after exit for Ada, open round the clock. In the centre of the city, there are several Maxi shops open 24h: at Francuska 5, Kosovska 33, Prizrenska 1, Čika Ljubina 9, Kralja Milana 31a... Please note that under current regulations, no spirits may be sold between 22 and 7. This ban is applicable to shops and kiosks, but not to restaurants and bars. Most restaurants open until midnight, but their kitchens take orders until 23.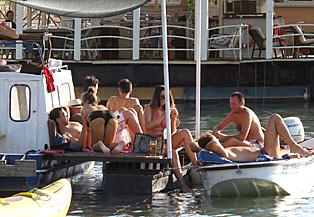 Public holidays
Public holidays which are non-working days:
1 & 2 January - New Year
7 January - Orthodox Christmas
15 & 16 February - Statehood Day in Serbia
1 & 2 May - Labour Day
Orthodox Easter, from Good Friday to E. Monday
11 November - Armistice Day in WW1
Public holidays which are working days:
27 January - St Sava's Day
9 May - Victory Day (WW2)
28 June - St Vitus' Day, in memory of the Kosovo Battle fought between Serbia & Ottoman Empire
11 November - Armistice Day in WW1
21 October - Day of Remembrance of Serbian Victims of WW2
The Serbian Orthodox Church celebrates its feasts and holidays according to the old, Julian Calendar, which differs from the Gregorian Calendar by +13 days. This is how Belgraders get to celebrate the New Year several times (31 December: official New Year's Eve; 1,2 January: New Year's Eve re-runs, 13 January: New Year's Eve according to the Julian Calendar).

Health
If you should have a minor health problem, you may want to consider visiting one of many private medical practices in Belgrade. They will be harder on the pocket, but you will avoid the agonising wait which are lamentable and inseparable part of otherwise good national health care service. You are therefore advised to take out international health insurance so you do not have to worry about the costs of medical treatment. In case of major traumas and need for emergency and urgent care, go straight to the Urgent Care Centre or call Ambulance, which is part of the Emergency Care Service (it has its own walk-in centres, some of which are accessible even 24 hours). For emergency dental treatment try one of the below listed dentists which are part of the national health scheme. Otherwise, try to make an appointment during regular hours at a private dental practice; our tip is "Jovanović" practice.

Useful addresses and telephone numbers:
Ambulance (0-24h), B. Franše D'Eperea 5, Tel: 194
Urgent Care Centre (Urgentni centar), 0-24h, Pasterova 2, Tel: 3618-444
Emergency Care Centre "Stari grad" (07:30-19:30), Kralja Petra 10a, Tel: 3282-351

24 Hr Emergency Dentist 0-24h:
"Stari Grad", Obilićev Venac 30, Tel: 2635-236
"Vračar", Kneginje Zorke 15, Tel: 2441-413

24 Hr Pharmacies:
"Prvi maj", Kralja Milana 9, Tel: 3241-349
"Sveti Sava", Nemanjina 2, Tel: 2643-170
"Zemun", Glavna 34, Tel: 2618-582
"B. Vujošević", Goce Delčeva 30, Tel: 2601-887

Herbal Pharmacy:
"Dr Josif Pančić", Tadeuša Košćučkog 1, Tel: 2182-112. Open: Mon-Fri. 7-19, Sat. 7-13.

Selected private practices:
Anlave, Vase Pelagića 68, Tel: 063-351-235, www.anlaveclinic.rs
Bel Medic, Koste Jovanovića 87, Tel: 3091-000 (0-24h), www.belmedic.rs
Dr Ristić, Narodnih Heroja 38, New Belgrade, Tel: 2693-287, www.dr-ristic.com
Euromedik, Višegradska 20, Tel: 3650-660, www.euromedic.rs
"Jovanović" Dental Care, Dunavski kej 11 (Dorćol), Tel: 2636-065.

Pets:
Small Animal Emergency Service, Bulevar despota Stefana 119, Tel: 062-8090-333, Open: Mon-Fri. 8-20, Sat. 8-16.


Population and religion
The urban area of Belgrade has a population of about 1,200,000, and another 400,000 people live in the outlying suburbs belonging to Belgrade's official city limits.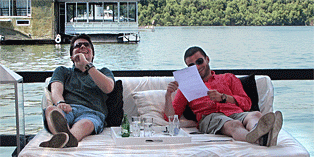 Serbs make up about 91% of the city's population. The remaining 9% includes Roma (1.65%), Montenegrins, Croats… as well as about 10,000 foreigners, mostly Chinese. Orthodox Christianity is the major religion. Serbian Orthodox Church became autonomous in 1219. The system of government: parliamentary democracy.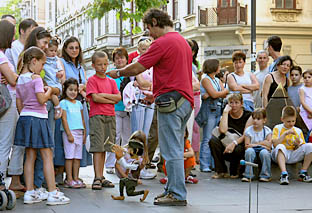 Language and Script
The official language is Serbian, with Cyrillic being the official script, although the Latin script is equally used. Serbian language is difficult to learn and has complicated grammar. The only Serbian word accepted in most languages in the world is Vampire (Serbia is the native country of Vampires).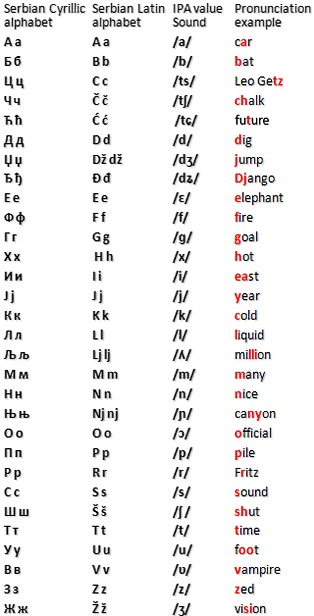 Money
Serbian currency is dinar (RSD). Incidentally, the first mention of the Serbian dinar dates back to 1214. Nowadays, notes come in denominations of 10, 20, 50, 100, 200, 500, 1,000, 2,000 and 5,000 dinars. Coins come in 1, 2, 5, 10 and 20 dinars. Serbia has an annual inflation rate of 10 to 15%. The exchange rate at the time of writing is 1 EUR to 115 RSD. Please note that it is illegal to pay for goods and services in Serbia in foreign currency. Foreign currency can be exchanged at most hotels and banks, however better exchange rates are likely to be found at bureaux de change (banks in Serbia make fabulous profit from loans calculated in EUR but paid off in RSD). There are plenty of bureaux de change dotted around Belgrade, marked by the sign of the National Bank of Serbia. The exchange rates at bureaux de change are similar, but expect those at large shopping malls and supermarkets to offer a slightly worse rate (still better than in banks). There are a few automated currency exchange machines located at the airport and the centre of the city, where you can change EUR, US dollar and British Pound. There are no fees for selling foreign currency, but there is usually a commission of up to 1% for selling dinar.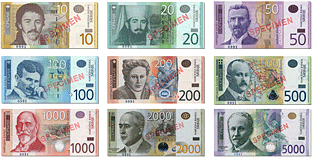 Eurocheques and travellers cheques issued by Amex, Thomas Cook and Visa can be exchanged in most banks in Belgrade. You can pick up your Western Union money transfer at certain authorised post office branches and in most banks in Belgrade. Credit or debit cards are used almost everywhere, notable exceptions being green markets, kiosks and parking lots, where you will need cash. VISA, VISA Electron, MasterCard, Eurocard, Maestro, Diners Club and local DinaCard are widely accepted, American Express less so. There are many ATM machines around Belgrade where you can collect money 24h. Incidentally, the first cash machine (ATM) in southern Europe was installed in Belgrade in the early 80s of the last century (before Italy, Spain, Greece…).

Banks with long opening hours
Komercijalna bank, Nikole Pašića Square 2 (corner with Terazije), Open: Mon-Fri. 8:30-19, Sat. 10-14.
Raiffeisen bank, Mercator Shopping Mall in New Belgrade, Open: Mon-Sun. 9-22.
Telephone numbers to report the loss or theft of your credit or debit cards
VISA, Tel: +381 11 3011-550
MasterCard, Tel: +381 11 3010-160
Diners Club, Tel: +381 11 3440-372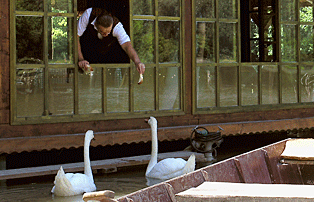 Tipping
In Belgrade, it is customary to tip waiters, restaurant parking attendants, taxi drivers, beauticians, room cleaning staff, car washers (in case of a hand car wash) and handymen. In restaurants, the usual tip is 10% of the fare (either in a single bill or by rounding off the amount). Even though you may be paying by credit card, it is usual to leave the tip in cash. Tipping is not obligatory, so you do not have to tip if you are not happy with the service.

Water
Tap water is chemically and bacteriologically safe, it is pleasing to taste and it is safe to drink.

Public toilets
Public toilets in Belgrade are few and far between. They can be found in large parks, at the corner of Vasina and Francuska Streets near the National Theatre and there are several unisex toilets in garages. You may want to avoid the men's toilet in the Terazije underground passage, as it is frequented by voyeurs. If the need to go comes on whilst you are strolling round the city, a good strategy would be to use the toilet in the nearby café, restaurant or a shopping mall. There are no public showers in Belgrade, so if you are just passing by and need a decent shower, the only thing is to take a room at a hotel offering day-use options at special rates.

Public toilets are marked in our Belgrade map
Communications
Making telephone calls
International dialling code for Serbia is 381, and Belgrade area code is 011. To make an international call from Belgrade, first dial Serbia's International Access Code (00), followed by the county code, area code (if any) and the customer number (00 - country code - area code - customer number). To call a landline in Belgrade from abroad you should dial the International Access Code of the country you are dialling from, followed by 38111, and the landline number (+381-11-XXXXXXX).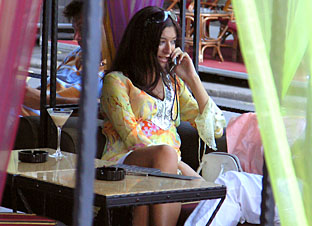 If you are making a call to a Belgrade landline from Serbia, dial 011, followed by the landline number (011-XXXXXXX). If you are in Belgrade, just dial the landline number. You can make calls to landline and mobile numbers from public payphones, using "Halo" phone card which are available at kiosks and post offices. The price of "Halo" card equals the amount of credit on your card, thus with a "Halo" card worth 300 dinars you can speak for 12 minutes with the UK and Norway, 6 min. with the USA, 14 min. with Italy...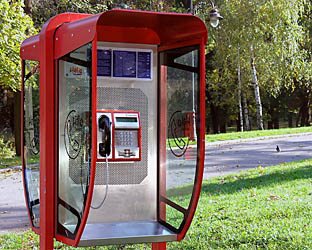 Currently there are three mobile networks operators in Serbia: Telenor (mobile prefixes: 062, 063 and 069), MTS - Telekom Srbija (064, 065 and 066) and VIP (060 and 061). To call a Serbian mobile number from abroad dial the International Access Code of the country you are dialling from, followed by Serbian country code, mobile prefix (drop 0) and the mobile number (e.g. +381-64-XXXXXX).
To call a Serbian mobile number from anywhere in Serbia (whether from a landline or mobile phone) dial the mobile prefix (with 0) and the mobile number (e.g. 064 XXXXXX), and to call a Belgrade landline from a Serbian mobile number, always use the area code for Belgrade (011 XXXXXXX) You can get local "pay as you go" SIM cards and top-ups from any operator at kiosks (MTS SIM cards and top-ups are also available at post offices). The price of a local call per minute is between 9 and 12 dinars, local text messaging is 3-5 dinars, international text messaging is around 12-15 dinars.
Useful links:
www.mts.telekom.rs, telenor.rs, www.vipmobile.rs

Useful telephone numbers
Police - 192
Fire Service - 193
Ambulance - 194
Speaking clock - 195
Telegrams - 1961 (7-21h)
Road assistance - 1987
Directory inquiries - 11811
Wake-up calls - 19811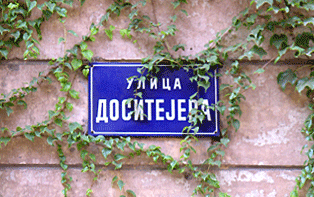 Postal Services
The general post code for Belgrade is 11000. You can drop letters and postcards off at a post office or slip them into a post box (they come in different shapes and sizes, all marked with the logo saying "Pošta"). The stamps are available only at post offices. You can also use the post office to send or receive money via Western Union.

Main post offices:
Post Office 01, Takovska 2 (opposite the Parliament building), Open: Mon-Sun. 0-24
Post Office 06, Savska 2 (next to the Central Railway Station), Open: Mon-Sat. 8-19
Post Office 03, Zmaj Jovina 17 (corner with Vasina St.), Open: Mon-Sat. 8-19
Post Office 27, Pohorska 2 (New Belgrade), Open: Mon-Fri. 8-19, Sat. 8-15
Post Office 80, Glavna 8 (centre of Zemun), Open: Mon-Fri. 8-19, Sat. 8-15

Express services:
Post express, Takovska 2; Tel: 3607-607, 0800 100-808 (od 8 do 18h); www.postexpress.rs
DHL, Đure Jakšića 11, Tel: 3105-500 (8-18); dhl.rs
FedEx, Flying Cargo Yugoslavia LLC (Service Contractor), Tel: 3109-400

Internet:
Internet domain for Serbia is .rs
You can expect free WiFi access at many hotels, cafes, and restaurant in Belgrade. Free WiFi is also available in these parks: Tašmajdan, Vukov Spomenik, Studentski Park, Skate Park Ušće.

Electricity
Voltage 220V, frequency 50 Hz, European standard socket - German Schuko.

Sex and Drugs
Prostitution is illegal in Serbia! If you see a scantily clad girl on a street it does not necessarily mean that she is a prostitute. A taxi driver or a receptionist at a hotel may offer to find a prostitute for you, but take note, if you choose to break the law, you are entirely on your own. All types of drugs are outlawed in Serbia, including marihuana. Both possession and use are illegal.

LGBT
A public expression of homosexuality is not well received in Belgrade - a gay/lesbian couple holding hands affectionately and kissing each other in a street may attract various degrees of hostility from onlookers. At the same time, there is an active LGBT scene in Belgrade with several venues (bars, clubs...) and reoccurring events. These do not include the Gay Pride, which has been repeatedly cancelled due to threats of violence from those disapproving of LGBT population. In short, if you come to Belgrade with your gay/lesbian partner and you do look like a couple, you will be better off saving any overtly enthusiastic displays of affection for your hotel room. It is interesting to note that Belgrade has become a hub for sex-change operation, with people coming from around the world to have transgender.

PUBLIC TRANSPORT