Belgrade's greatest treasure, one that leaves strong impression on nearly all visitors from abroad, are Belgraders themselves. As you stroll the city, you will see that streets are alive with people at any time of day and you will feel their positive vibe. Belgraders are friendly and sociable.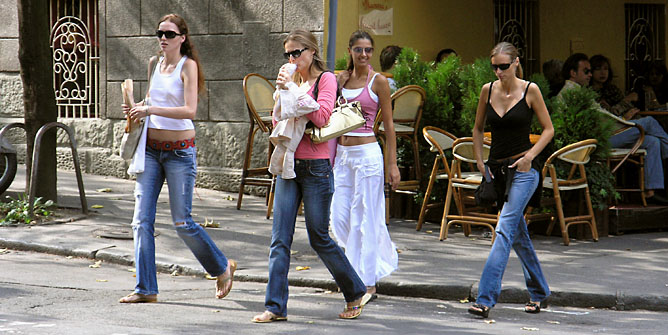 They do not hold prejudice towards foreigners (no matter what their origin) or different races. Already on your first day in the city you may strike up an acquaintance or friendship (that's right, real friendship). Everyone will gladly help you find your way around, and getting an invitation for a drink or lunch from hitherto complete strangers is not completely unlikely. Belgraders are always ready for a laugh, they are noisy, spoilt, make new friends easily, blow a gasket in traffic jams (drivers and passengers alike) and love all sorts of fun at any time of day or night.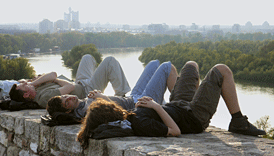 1. Montevideo 2010, Dir: Dragan Bjelogrlić
2. We Are Not Angels 1992,
Director: Srdjan Dragojević
3. Hey Babu Riba 1985, Dir: Jovan Aćin
4. Strangler vs. Strangler1984, Dir: S. Šijan
5. National class 1979, Dir: Goran Marković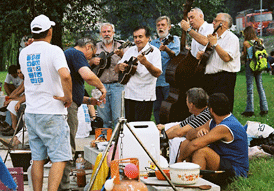 1. A Guide to the Serbian Mentality
A: Momo Kapor, Publisher: Knjiga komerc
2. Belgrade underneath Belgrade
A: Nikolić & Golubović, P: Službeni glasnik
3. The Serbian Epic Ballads,
Publisher: Tanesi
4. Belgrade : A Cultural History
A: David Norris, P: Oxford University Press
5. Belgrade Bites, A:Yvo Kühling, P:Komshe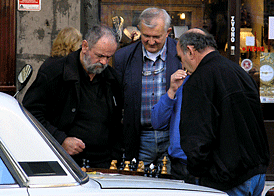 TIP: If you wish to learn more about Serbs, you may inquire about the people remembered in the names of the streets in Belgrade. Strahinjića Bana Street, for example, was named after a medieval Serbian hero whose tale is told in epic folk poems. This is his tale: while he was visiting his father-in-law, word reached him that his castle was ransacked and his beloved wife ravished and abducted by marauding Vlah Alija, a mighty lord who had wilfully separated from the main forces of Ottoman Turk army mustered against Serbia. Strahinjić Ban beseeched his in-laws to accompany him in his quest to rescue his wife, but they refused, unwilling to risk their lives over a woman whose honour was stained. Disgusted with his in-laws, Strahinjić Ban went after Alija with only his dog for company, disguised as a Turk, spurred by his love for his wife. When he finally found Alija's tents, Alija was resting in his wife's lap, after a long night of making love to her. His wife recognised him and warned Alija of his approach, fearing punishment. Strahinjić Ban challenged Alija to a duel and they stayed locked in a fierce battle all day long, shattering each other's spears and swords. Seeing that neither can prevail, Strahinjić Ban cried out to his wife to strike one of them and so bring victory to the one she preferred. Vlah Alija called out to her too, pleading to strike Ban as she could expect nothing but scorn from him. Picking a shard of her husband's sword, she smote Strahinjić Ban on the head, but the blow was not strong enough and with redoubled strength he slew Alija with his teeth. Strahinjić Ban took his wife back, scorning his in-laws who would kill her in punishment for betrayal. Noble and matchless hero he was, he forgave her and went home with her.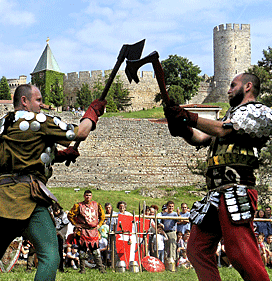 Historical experience has taught Belgraders that the times of peace and prosperity are too short, so they embrace every opportunity to have fun and make merry, seize the present moment, rather than wait for retirement. This philosophy of life probably accounts for the laid-back life style and nightlife, so fascinating to the visitors. On the other hand, many Serbs will tell you that Belgraders are too uptight and toffee-nosed, and that you can enjoy real laid-back life only in the Serbian countryside.
The unforgettable women of Belgrade are the soul of the city. Bewitching, elegant, provocative, unpredictable, irresistible... They will walk past you with the nose in the air, but rest assured they have sized you up and could give your accurate description under cross-examination. Many visitors from abroad find it hard to get used to the sights afforded by Belgrade streets, especially in summer, as girls that pretty are supposed to be guarded behind thick walls or tinted windows of limousines and here they will pop up from everywhere. When they meet, Belgraders shake hands and say "Zdravo" or "Ciao", and if they have not seen one another for a long time, they kiss three times on the cheek.
Being late is fairly common. Being fifteen minutes late is counted as arriving on time. Hardly ever has any film or theatre show in Belgrade begun on time because the patrons like to linger in the foyers, chat and gossip with friends, untroubled by the front-of-house calls or bar bells. Rock concerts are usually more than one hour late.
It is ill-mannered to phone anyone before 10 am (unless you know for sure that they are at work) or after 10 pm. Lunch can take place anytime between 1 and 5 pm. Dinner is usually had between 7 and 10 pm. When you visit someone's home, it is polite to bring a gift - coffee and wine for the hosts, chocolate for each child. To toast like a Belgrader, say "Živeli" when you clink classes, and remember to look each other straight in the eye. To wish an enjoyable meal, you say "Prijatno". The practice of splitting the bill in kafana is almost alien to Belgraders. The bill is collected by whoever invited for a drink(s) or meal. If a chance meeting of two friends ends up in a kafana, the right to pay the bill will be bitterly defended by both and may spark fierce battle (everyone wants to pay the bill,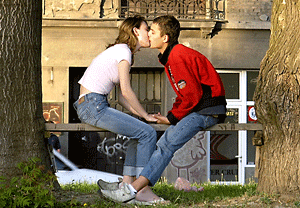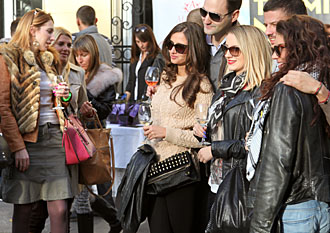 (conversing with calm insouciance about Tao of Physics, Constitutional Law, Kubrick Aesthetic...) or physical (when you sit at the table and strike the pose of "a lone belle", "a fatigued manageress", "a solitary empire-builder","a misunderstood intellectual", ...).
You will notice that during the sultry summer days as well as chilly winter days (in other words, all year round) many rooms are unventilated and stuffy. The reason for this is that Serbs are highly susceptible to the insidious effects of draught (getting caught between two open windows or doors), which they believe to be the major cause of nearly all illnesses known to man (try opening a window in a packed bus if you don't believe). Every family has a patron saint, celebrated annually on the saint's feast day.