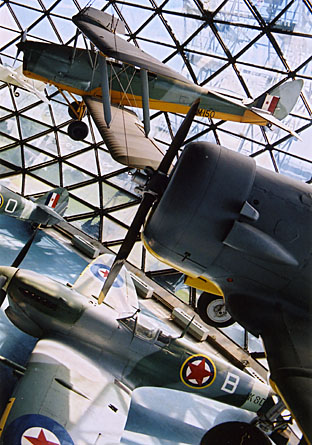 A: "Nikola Tesla" Belgrade Airport, Tel: 2670-992. muzejvazduhoplovstva.org.rs. Open: Mon. 9-16, Tue-Sun. 9-18:30 (winter season: Tue-Sun. 9-16, Monday closed). The museum has an impressive collection of different types of aircraft, engines, equipment, model aircraft and photographs. The exhibits are displayed inside a curious-looking building encased in glass, as well as the surrounding grounds. The collection includes original and preserved WWII fighter aircraft and ground-attack aircraft such as Messerchmitt Me-109, Hurricane Mk IV, Spitfire Mk Vc, Yak-3, Illushin IL-2, Thunderbolt P-47, as well as the only surviving example of Fiat G-50... It also displays parts of the only downed F-117 in the world (in 1999), as well as wreckage of F-16, cruise missiles and UAV. To reach the museum, follow the instructions on how to get to the airport.
Admission: 290 RSD for local and 500 RSD for international visitors.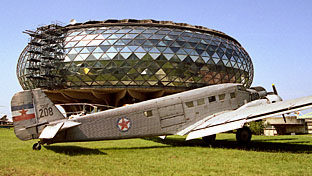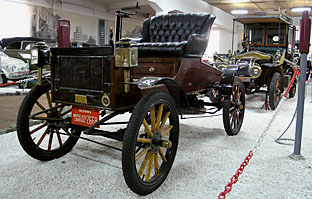 A: Majke Jevrosime 30, Tel: 3034-625. Open: Mon-Sun. 9:30-19. automuseumbgd.com. The museum is suitably housed in the first public garage in Belgrade, built in 1929. It displays a fine collection of old and rare automobiles and motorcycles owned by Bratislav - Braca Petković. Most vehicles are in road-worthy condition and registered. The oldest exhibit is a 1897 Marot Gardon. The museum also features various items of equipment, posters and photographs and a small souvenir shop.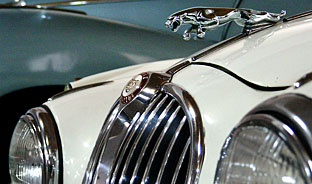 It gets cold in winter-time as the large exhibition room will not to heat up properly. You may not take photos inside the museum. Admission: 100 RSD.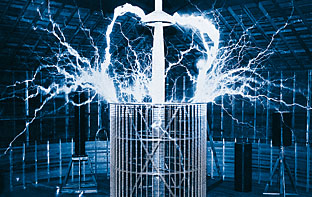 A: Krunska 51, Tel: 2433-886, Open: Tue-Pet. 10-18, Sat-Sun. tesla-museum.org. Nikola Tesla (1856-1943) is one of the most important inventors and engineers of all times, best known for his contributions to the science of electricity. He discovered alternating current and invented three-phase power transmission system, induction motor, high-frequency power generators and transformers; he was a pioneer of radio engineering and remote control technologies... a unit of magnetic flux density was named tesla in his honor. The museum is situated in a beautiful building from 1929, commissioned by Đorđe Genčić as his residence. Today it houses Tesla's personal legacy, scientific papers and the urn with his ashes. Demonstrations of some of his experiments are available on request for pre-registered visitors. Guided tours are scheduled on the hour, every hour. Admission: 250 RSD for local and 500 RSD for international visitors.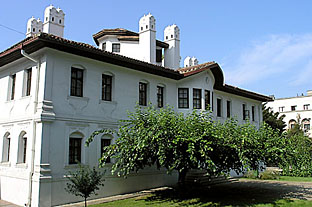 A: Kneza Sime Markovića 8, Tel: 2638-264. www.mgb.org.rs. Open: Tue, Wed, Fri, Sat. 10-17, Thu. 12-20, Sun. 10-14. An example of a stately home from the first half of the 19th century (completed in 1831), commissioned by Prince Miloš Obrenović to serve as residence for his family - Princess Ljubica and sons Milan and Mihailo. At the very outset of the construction works, an urban legend says, the Prince had gallows erected on the grounds to remind the contractor of the deadline. The permanent exhibition features the original furniture representing different styles in the 19th century Belgrade (Neo-Classical, Biedermeier, Neo-Baroque and Oriental styles). The Hall in the basement features themed exhibitions.


Admission: 200 RSD (100 RSD for children, students, unemployed and the retired). We recommend a visit to the museum as part of "A Coffee with Princess Ljubica" show - visitors are received by Princess Ljubica, who takes them back to the days of the Obrenović dynasty, over coffee and Turkish delight. The one-hour show in Serbian (350 RSD) is scheduled every Friday (5pm) and Saturday (10am). The show may be performed in English, upon prior arrangement, at the price of 500 RSD per person.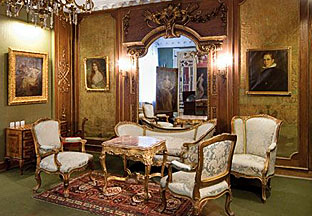 A: Kralja Milana 21 (4th floor), Tel: 3340-176. mgb.org.rs. Open: Thu. 10-18. Paja Jovanović (1859 - 1957) is one of Serbia's greatest academic realist painters. He is famous for his monumental historical compositions and genre paintings. His "Crowning of Emperor Dušan" was awarded the gold medal at the World Exhibition in Paris in 1900. The museum features some of his paintings, painting equipment, and personal items. In addition to the paintings on display, you will see a fine example of a stylish interwar Belgrade apartment, complete with Louis XV drawing-room suite. The museum is housed in "Devanha" Palace, named after the Portuguese ship which was torpedoed while carrying Serbs wounded during the WWI. The mansion was built by one of the shipwreck survivors, Nikola Uzunović, who later served two terms as Prime Minister of Yugoslavia. Admission: 200 RSD (100 RSD for children, students, and the retired).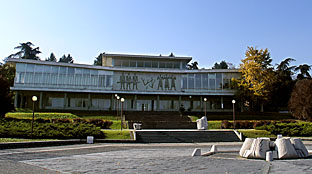 A: Botićeva 6, Tel: 3671-485. www.mij.rs. Open: Tue-Sun. 10-20 (winter season 10-18). The museum hosts exhibitions related to the history of Yugoslavia and Serbia, as well as contemporary art and design. It also comprises "House of Flowers" – the mausoleum of Josip Broz Tito (1892-1980), a machinist, Secretary General of the Communist Party of Yugoslavia, leader of one of two resistance movements in Serbia during WWII, President for Life of Yugoslavia and founder of Non-Aligned Movement. Something of a mystery man, Tito reigned supreme over Yugoslavia for 35 years. A charmer and womaniser, a hedonist of sophisticated tastes, he was a darling of the proletariat, Hollywood stars, communist dictators and European aristocracy. His funeral drew the largest number of statesmen in history (from 125 different countries). The museum houses precious gifts Tito had received from all over the world. Admission: 200 RSD (100 for students).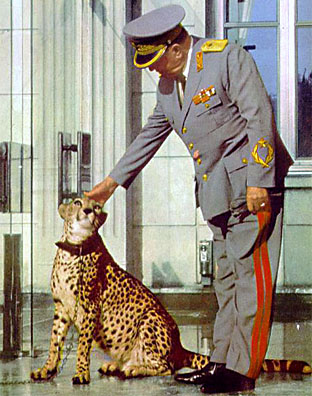 A: Belgrade Fortress, Tel: 3343-441. Open: Tue-Sun. 10-17. muzej.mod.gov.rs. Established in 1878. The largest part of the museum collection was destroyed or carried off by the occupying forces in WW1 and WW2. The items on permanent display inside the museum building cover a span from ancient to modern times. These include weapons, armours, wartime flags, photographs, equipment, uniforms, decorations, artillery weapons... Among them is probably the oldest preserved yatagan in the world, older than the one exhibited in Topkapi Palace in Istanbul. The recent acquisitions include items addressing the NATO bombing of Serbia in 1999, together with a Humvee captured from the US Marines just outside the entrance. There is more however, as there are artillery weapons (18th-20th century) and armoured vehicles lining the ramparts and trenches of the fortress near the museum building.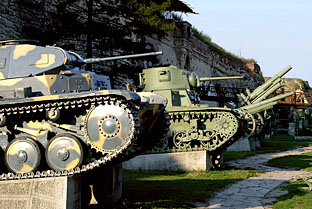 Admission: 150 RSD (70 for children). Admission is free for students of history, history of art, archaeology and military personnel.




A: Studentski trg 13 (Corner with Uzun Mirkova St.), Tel: 3281-888. etnografskimuzej.rs. Open: Tue-Sat. 10-17, Sun. 9-14. The permanent exhibition features a rich collection of folk costumes, killims, craftwork, tools, furniture, old field photos…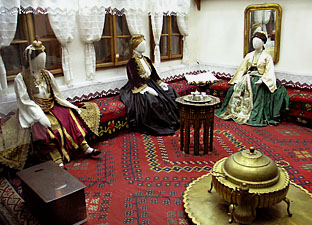 There is a very well equipped (for Beograd standards) souvenir shop, where you can find copies of medieval jewellery, parts of folk costumes and some interesting books. The coffee served in the bar is an excellent example of the traditional strong coffee brew. Admission: 150 RSD (60 RSD for pupils and students), 250 RSD for visitors who wish to be accompanied by a guide speaking English or French.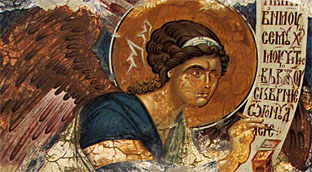 A: Cara Uroša 20, Tel: 3306-019. narodnimuzej.rs. Open: Tue. Wed. Fri. 10-17, Thu.Sat. 12-20, Sun. 10-14. The gallery houses replicas and originals of medieval Serbian and Byzantine frescoes and icons, sculptural decorations and façade ornaments. Some of the replicas on display can be seen only in this gallery because their originals from Kosovo and Metohiya were destroyed in violent attacks on Serbian churches and population in 2004. The present gallery is located at the site of Beth Israel Synagogue which was destroyed by the Nazis in WW2. After the war, the Jewish community donated that land as a gift to the city. The staff are attentive and will to do their best to answer any queries. Admission: 100 RSD (50 RSD for pupils and students), admission free on Sundays.


Other museums
The National Museum, where you should be able to see an impressive archaeological collection and a fine collection of impressionist paintings, has been closed for renovations for ten years now. It was only after the Museum had been closed that the powers that be realised that the funds for full- scale renovation were sorely lacking, but they decided to leave it closed anyway, and hope for a miracle. The present administration wisely adopted a sensible approach, so the renovations are now being carried out step by step, based on funding availability. The renovated sections are being put back in use, and the Museum is hosting again some interesting themed exhibitions. The Museum of Contemporary Art, whose building adorns the confluence of the Sava and the Danube, has been closed for years, due to the renovations (you may notice a pattern). Museum of Vuk and Dositej has a very modest exhibition to commemorate the lives of two monumental figures in the history of Serbian language & literature, and the notes on displayed objects are provided only in Serbian. It is worth visiting only if you wish to see an 18th century Turkish house which is home to the Museum. The Historical Museum of Serbia does not host a permanent exhibition, but occasionally mounts interesting themed exhibitions. The Belgrade City Museum, established in 1903, has no functional premises and thus no permanent exhibition.

Yugoslav Film Archive, Uzun Mirkova 1 (digital cinema and exhibitions), Kosovska 11 (35mm). One of the richest film archives in the world. Tickets are available one hour before first screening of the day, there is no pre-booking. Programme: www.kinoteka.org.rs

Please note: there are no audio guides available in Belgrade museums in any language. To obtain a discount on admission fees you will be required to produce the relevant ID.